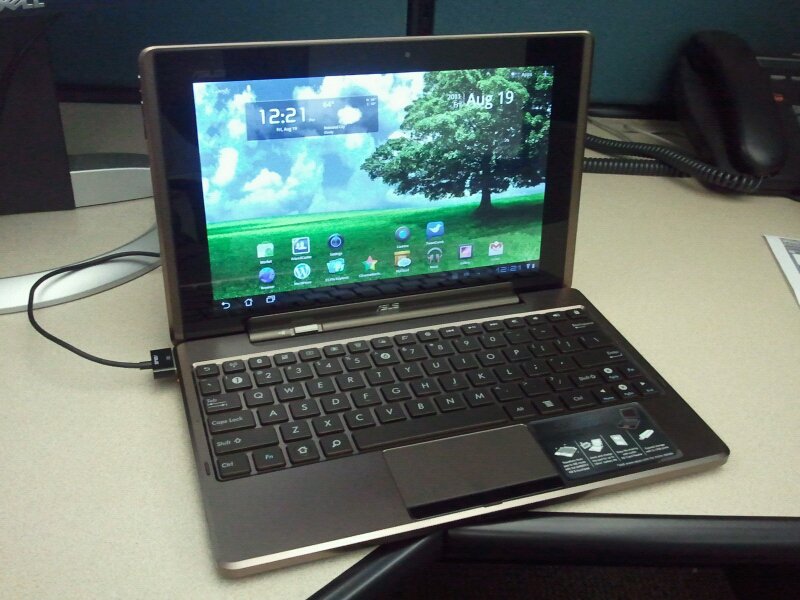 I am now the proud learned of Asus tablet. My previous tablet was a Viewsonic G Tablet. It was decent, but only performed it's best once it was rooted. The last ROM i was using was CM7. It did well for me until new updates to my apps started to bog it down, then there were force closes galore. Widgets would cause errors and go away. If too much power drained from the unit it would lose all day and time settings.
The final straw came with the new Android market update. The update is automatic so you can't stop it or say no. And when you go to the Market to update apps, it immediately force closes… meaning you can't update apps or anything. It was only after all of these difficulties that I realixed I really needed a 'real' tablet with a real OS, not a tablet functioning with a phone OS!
Enter my new Asus! A friend at work had one and I really liked what I saw as I talked to him about his.
I did some checking online and the specs looked great. Comparable to my G Tablet and the Xoom, but slightly better than the Galaxy Tab. It has a good amount of ports which the Galaxy Tab does not. It also has sd card support.. always a good thing.
The biggest selling point came when he let me take for a bit so I could try it out. The screen looked really great indoors, but I wanted to test it out. My G Tablet had a decent screen when you looked at it straight on, but was pretty awful as soon as the viewing angle changed. It was also pretty awful when hit with direct light, indoors or outdoors. Polarized sunglasses also made it unreadable. These things don't seem important until you realize that you can only use tablet in certain places and at certain times. Who needs that kind of restriction?
I went outside with his tablet and the great screen resolution I had viewed indoors was fairly undiminished outdoors in either shade or direct sun. The screen was equally readable outdoors with a nice bright picture, even while wearing my polarized sunglasses.
The tablet is also pretty lightweight and easy to hold in one hand while you use the touch screen with the other. The XOOM is awful in this respect because it's so heavy. The G Tablet was slightly better but still pretty weighty. The Transformer is really manageable. And the textured surface on the backside keeps it from slipping in your hand.
Basically, the unit pretty much sold itself! So I went ahead and got it on Amazon with 1 day shipping (Prime is a great thing). I loved it. But as soon as I got it I thought about the keyboard dock… hmmm. Should I get that too? Again I went to my friend who has the dock as well as the tablet, and it sold itself again… and was on sale on Amazon.
So the picture you see is of my Transformer attached to its' keyboard dock. It's great, functions like a very cool laptop, and can go for over a day without a charge to either unit. This is one of the coolest items I've ever bought, living up to every ounce of expectation I had for it. It's taken a little bit of time to get used to having a true Honeycomb tablet as opposed to a Tablet ROM based on Froyo or Gingerbread, but that's a small thing. The apps are catching up, and there aren't a huge amount of force closes. Moreover, all of the apps I had on my phone were able to be installed on my tablet in some form or other.
It is really really cool…and I'm really really happy with it! 🙂 More later I'm sure.